Cambridge, United Kingdom – April 29, 2017 – Back in January, ISDS hosted its first ever BP rounds for students aged 15 and below. Taking it away by a mile, Harsith and Tejas from Padma Seshadri Bala Bhavan Senior Secondary School, KK Nagar, Chennai, were selected and sponsored by ISDS to compete at the final day of the International Competition for Young Debaters (ICYD), the largest international competitive debating tournament for junior debaters aged 15 and under, hosted this year by the Cambridge Union.
Out of around 700 teams from across the world, a total of around 60 of the strongest teams were selected from their respective regions to attend the Final Day of the Competition. The final day involves 4 back-to-back preliminary rounds followed by a direct selection to the final – this means only 4 of the 60 top contenders from around the world go into the final. This ICYD saw teams from the UK, the rest of Europe, Canada, and Greece. The first ever team representing India and sponsored completely by the Indian Schools Debating Society (ISDS) comprising of two students, Tejas Subramaniam (15) and Harsith Ravichandran (15), from PSBB Senior Secondary School, KK Nagar, Chennai, participated. The coaching team for this squad was led by Chandrasekar Sriram (21), a university student with an illustrious debating career from the NALSAR University of Law, Hyderabad who is a distinguished trainer at ISDS and an Indian National Debating Team alumnus – this was his first coaching stint. This team went on to win ICYD 2017, an unprecedented achievement for a first-time team, and a milestone for an Indian Team.
ICYD is conducted in the British Parliamentary (BP) format, which is a challenging format followed for university debating across the world, specifically in the World Universities Debating Championships.
We are so proud of this team and their coach for bringing us this victory, and we hope it is only the first of many this year! Tejas will feature on Team India 2017 to the World Schools Debating Championship, and Harsith on the Indian Development Squad at the Asia World Schools Debating Championship.
Congratulations to the team and their coach, and a big shout to everyone who helped and supported us throughout this process!
Competing at ICYD 2017, Cambridge:
Tejas Subramaniam (left)
(Padma Seshadri Bala Bhavan Senior Secondary School, KK Nagar, Chennai)
Harsith Ravichandran (right)
(Padma Seshadri Bala Bhavan Senior Secondary School, KK Nagar, Chennai)
with Coach, Chandrasekhar Sriram
The students, who were exposed to this format of debating for the first time in late January 2017 won all their preliminary 4 rounds, therefore breaking as the first ranked team, into the finals. In doing so, they faced off and beat several native speakers from traditional and high profile debating institutions such as Eton College, Westminster College, Dulwich College and teams all the way from Canada. In the final, the motion debated was "This house would require companies to place graphic images of animal suffering on all products or food whose production has harmed or killed animals". The ISDS team from India unanimously won the debate from Opening Opposition, against two teams from Canada and Dulwich College (which even had a defending champion speaking on the team!).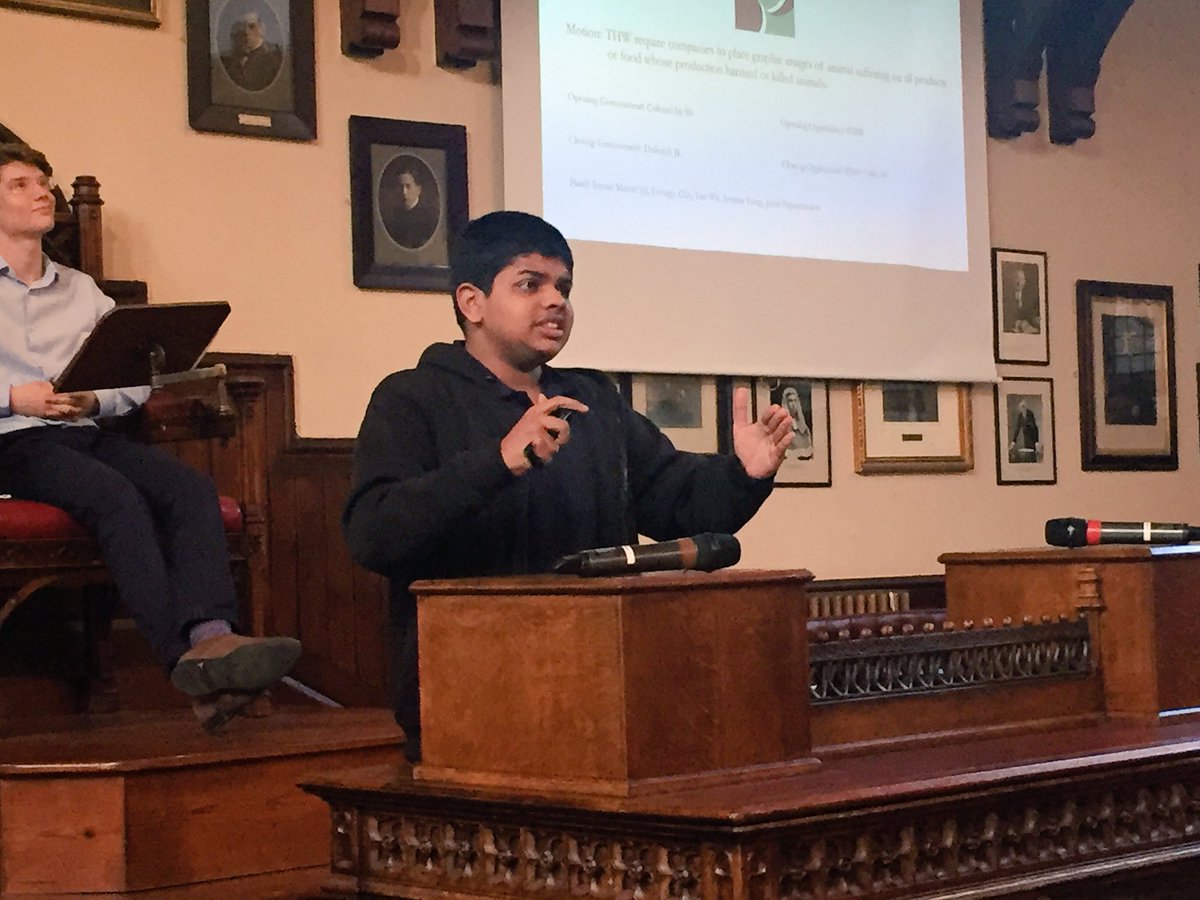 Tejas was declared the Best Speaker of the tournament while Harsith tied for a close Second Best Speaker with a speaker from Dulwich College. Winning this competition on the first attempt with fresh debaters is a special story that ISDS will continue to tell for years to come.
The organization of an Indian regional round for ICYD in January 2017 is ISDS' first foray into British Parliamentary debating – they are nothing short of ecstatic that the team representing them has brought back this victory. Tejas is also a part of the National Debate Team that will represent India at the World Schools Debating Championship (WSDC) in Bali in August, and Harsith is a part of the Indian Development Squad, that will be competing at the Asia World Schools Debating Championship (AWSDC) in July. ISDS is the defending champion at the AWSDC championship this year, and this will be Team India's 10th anniversary to the World Championship.
To keep up with the teams' progress at the tournaments, please follow them on:
www.facebook.com/indianschoolsdebatingsociety/
https://twitter.com/teamindiawsdc
---
Media Coverage / VijayKarnataka  

Media Coverage / Malayala Manorama